Recognizing Outstanding Employer Programs
The California Internship & Work Experience Association annually recognizes employers who model exemplary internship and work experience programs. CIWEA does this in an effort to support and encourage organizations to continue offering resources and opportunities for students to succeed.
Annual Nominations
Members are encouraged to nominate outstanding employer internship or work experience programs each year. The nominator must be a CIWEA member, but the nominee (school or employer) does not have to be an association member.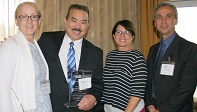 Representatives from the City of Los Angeles, Los Angeles Police Department, Motor Transport Division accept the 2016 Employer of the Year Award
DOWNLOAD AND SUBMIT NOMINATION FORM for 2018 Outstanding Employer/College & University. Submissions due no later than March 16th 2018
Employer Recognition Award:
2017:
California Musical Theater California Film Commision
2016:
The City of Los Angeles, Los Angeles Police Department (LAPD), Motor Transport Division
Northrop Grumman
2015:
Universal Studios Hollywood Technician Program
Shriners Hospitals for Children HVAC Department
2014:
Alliance to Save Energy
2013:
Shell Oil Company
First Investors
2012:
Disney College Program, Disneyland
Submit your nominations today, click here to get started.